By Simon Abaho
The Resident City Commissioner (RCC) for Arua City Alice Akello Opio could have landed herself in trouble for soliciting support for security operations from the Indian Community.
The Minister for Presidency Milly Babalanda on Friday confirmed her office was investigating the matter and if true, appropriate action would be taken.
https://neglectsquad.com/zysmnz3jeq?key=97ee80fc9cd97d5f665cb77aabfc5601
"My office is handling the matter of the letter purportedly written by the RCC, Arua soliciting for support for security operations from the Indian Community. It is an improper act, if confirmed to be true, and appropriate recommendations will be made," Babalanda said in a tweet on Friday.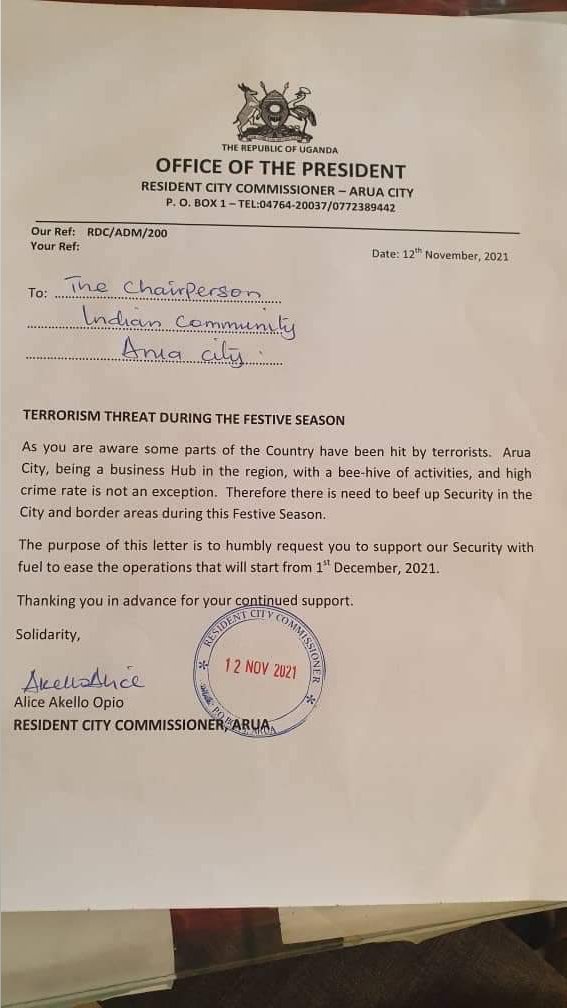 This follows a letter that was shared on social media titled, "terrorism threat during the festive," in which the RCC asked the Indian community in Arua city to support security with fuel to ease operations against insecurity that starts on December 1, 2021.
"As you are aware some parts of the country have been hit by terrorists. Arua City being a business hub in the region, with a beehive of activities and high crime rate is not an exception. Therefore, there is need to beef up security in the City and border areas during the festive season. The purpose of this letter is to humbly request you to support our security with fuel to ease the operations that will start on December 1, 2021," Akello indicated.
Sources in Babalanda's office say the RCC had been summoned to explain why she was soliciting for support yet the relevant offices were fully funded for such operations.
https://neglectsquad.com/avqin9mz?key=4105000c73a09a81c9b7c9690785522c
https://neglectsquad.com/zysmnz3jeq?key=97ee80fc9cd97d5f665cb77aabfc5601
https://neglectsquad.com/n9r9acyck?key=4adfe9a41ebee72c70175a132ee33e93