By Simon Abaho
A section of angry Ugandans took to Twitter blasting Centenary Bank for charging Shs600 on customers making inquiries about their balances.
This was sparked off by a tweet by a one Qwenga, also known as bkyeyune, who said he found it weird that banks have sold a false narrative that they have gone digital banking, yet demand physical presence of their customers when opening bank accounts.
https://neglectsquad.com/zysmnz3jeq?key=97ee80fc9cd97d5f665cb77aabfc5601
He wrote: "But banks are weird. You tell me I can open a bank account online. But then you call me and tell me that I need to go to a branch to sign papers to activate that same account. Make up your bloody minds… "
Qwenga was backed by Muramuzi Edwin replying, "Centenary Bank would charge you for opening their mobile app. That's how I stopped being a rural banker."
Centenary Bank that had been in bad books with its customers for being unresponsive to their concerns raised on social media, oddly moved swiftly to save face this time around.
The Bank replied, "Kindly be informed that downloading and opening the CenteMobile App is free of charge. You are only charged for transacting. For example, checking account balance is Shs600 and transferring funds to another account in the bank is Shs 1,000.
However, the response from Centenary Bank attracted more insults from Twitter users, with some applauding Standard Chartered Bank for living the dream of online banking promise and castigated Centenary Bank for operating in stone age era.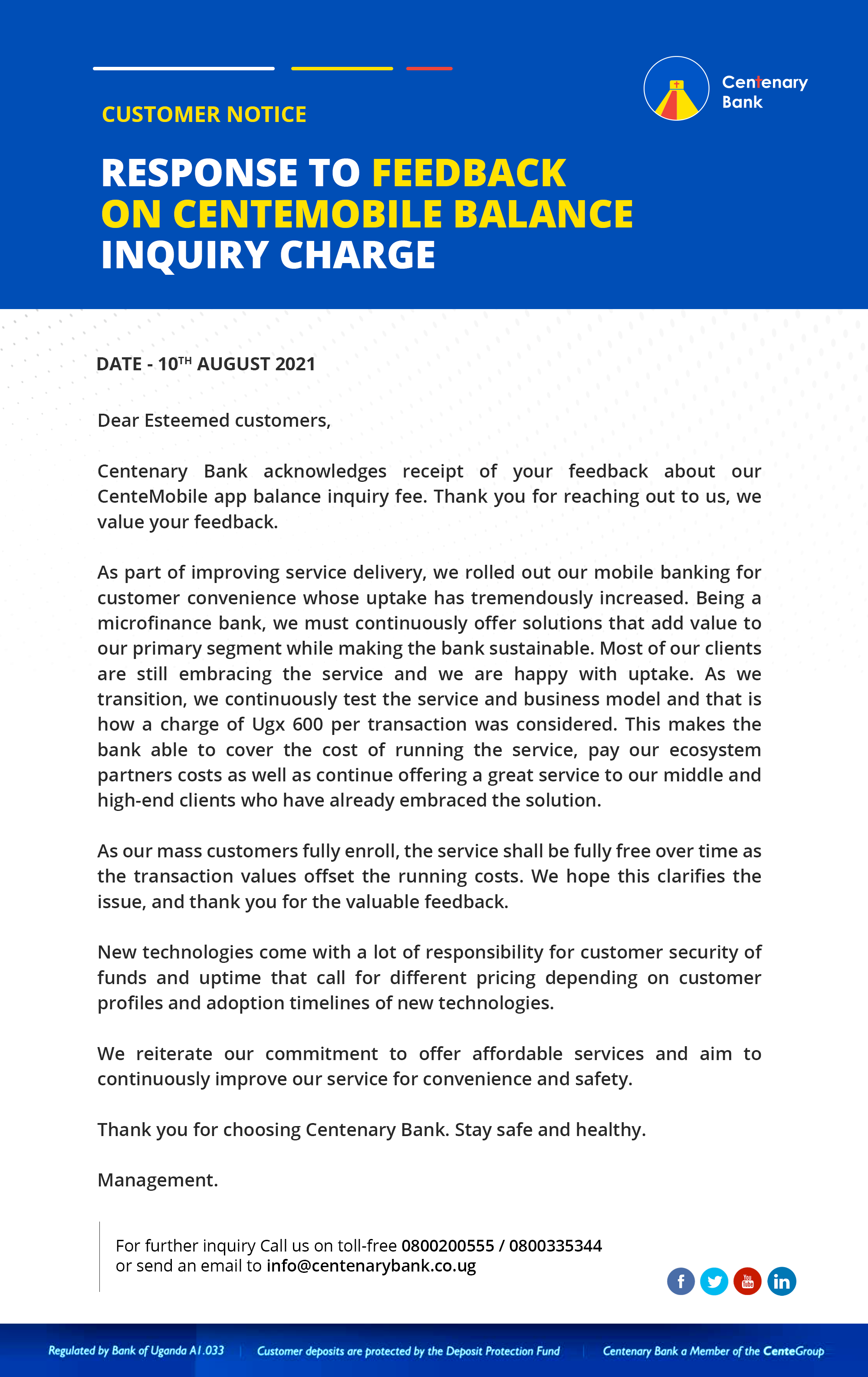 Edwin Sabiiti asked, "But let me ask, how is checking my balance a 'transaction'? What is a transaction/ transferring? How can money not moving anywhere be considered to have been transferred?"
Another Twitter user, Dale Chan weighed in, "Be serious!!! Checking balance isn't a transaction. Find innovative and sustainable ways to make money not the lazy charge everyone for everything."
The same sentiments were expressed by another user Khainza Bea, "600/= to check account balance??! Why is checking one's own account being charged in the first place?"
Buni Christopher was equally angry at Centenary Bank, calling out the Bank for their fraudulent charges writing, "This is fraud. There is no additional financial cost or computing resource allocation for a customer checking their account balance. Levying a charge on a database record query is simply FRAUD."
Sir Othello alluded to the fact that the people who came up with this charge at Centenary Bank were high after taking some illicit drugs, "Why would you charge people for checking their account balances? Y'all high on something am sure," said Othello.
https://neglectsquad.com/avqin9mz?key=4105000c73a09a81c9b7c9690785522c
https://neglectsquad.com/zysmnz3jeq?key=97ee80fc9cd97d5f665cb77aabfc5601
https://neglectsquad.com/n9r9acyck?key=4adfe9a41ebee72c70175a132ee33e93