By Simon Abaho
Today the Deputy Spokes Person Lt. Col DeoAkiiki officially handed over the office of Deputy spokesperson to Lt Col Ronald Kakurungu. The function was presided over by the Defence spokesperson Brig Flavia Byekwaso
President Yoweri Kaguta Museveni, who is also the Commander in Chief of the armed forces appointed Lt Col Ronald Kakurungu as the new UPDF deputy spokesperson early this month.
https://neglectsquad.com/zysmnz3jeq?key=97ee80fc9cd97d5f665cb77aabfc5601
Kakurungu, who has recently served as spokesperson for the fourth UPDF division in Gulu and the second division in Mbarara will now replace Col Deo Akiiki who has been sent for further training.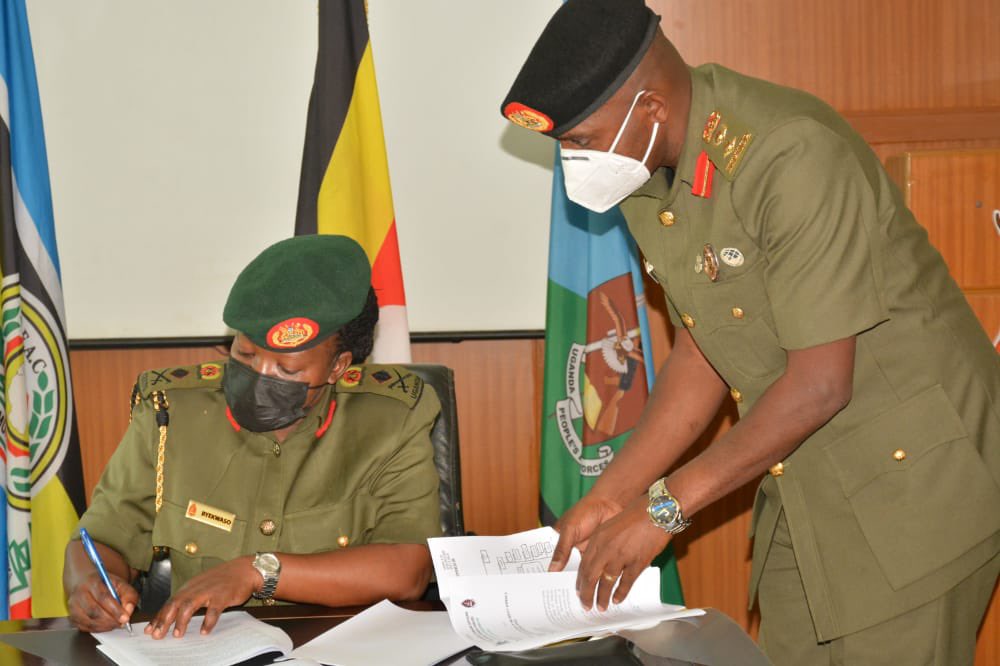 "I thank the UPDF Leadership for nominating me to go and further my studies and military career at the Senior Command and Staff College," Col Akiiki tweeted.
Col Akiiki has been the deputy army spokesperson since March 2017 when he was appointed to that position.
Deo Akiiki, who was at the rank of Lieutenant Colonel was in March among the UPDF officers promoted by President Museveni.
By being sent for another course at the Senior Command and Staff College in Kimaka, Jinja district, Col Deo Akiiki, a graduate of strategic security studies at the National Defence University in Washington DC, USA is being prepared for higher offices and commanding positions in the Ugandan army that he has served for many years.
The development is also a good opportunity for Col Deo Akiiki to complete all his military studies.
"Karibu Ndugu Lt Col Ronald Kakurungu to take charge of the office of the Deputy spokesperson of the ministry and UPDF. Alluta Continua."
https://neglectsquad.com/avqin9mz?key=4105000c73a09a81c9b7c9690785522c
https://neglectsquad.com/zysmnz3jeq?key=97ee80fc9cd97d5f665cb77aabfc5601
https://neglectsquad.com/n9r9acyck?key=4adfe9a41ebee72c70175a132ee33e93